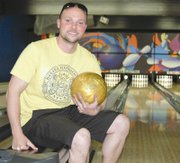 Life can be sweet...oh, so very, very sweet. Just ask 2003 Sunnyside High School graduate Brandon Rice.
"Everything is amazing right now. There's not a part of my life...my family, my job, the time with my friends...that isn't good," Rice said.
One particular element in the life of the 28-year-old man that is especially peaking right now is the time he's spending on the lanes...as in bowling lanes. He's been in the type of groove that most bowlers only daydream about.
But it wasn't a dream when he wrapped up the final week of league play on Wednesday nights at Sunnyside's Valley Lanes recently, by throwing his first ever 800 series.
The topper, it turns out, is that Rice was so hot that night he broke the Yakima Valley record for sanctioned three-game series. The 854 total came on jaw dropping, single-game performances of 288-267-299.
His previous three-game high had been a 792, shot clear back when he was a senior in high school
Rice admits he's had the three-game 800 mark in his sights for quite some time. It's been a realistic goal, considering he's collected USBC-issued rings on several occasions, for such things as rolling four perfect 300 games, as well as receiving awards for single-game efforts of 299 and 298. He's also had that 800 three-game mark squarely on the horizon by tallying pinfalls of 750 or better.
"But after awhile, you wonder if you're ever going to get one," said Rice, who's a bit more seasoned than your regular league bowler with one year of collegiate bowling under his belt - that coming during the 2005 season at Washington State University.
"To be honest, one of the hardest things to do in sports is to shoot an 800," Rice continued.
More difficult than scoring a hole-in-one in golf?
Much more, confirms the occasional weekend warrior on the links. Rice should know, considering about two weeks before rolling the new Yakima Valley bowling record he notched an ace while playing with friends at Yakima's Apple Tree Golf Resort.
Chuckling, Rice remembers he wasn't exactly tearing up the course that day, "...but there was something special going on.
"What happened," he beams, "...is when I left the house that morning my 11-month-old daughter, Bentley, gave me a kiss before I left home. Something told me, no, it was more like a feeling, that the kiss was a lucky kiss.
"I guess you could say the hole-in-one that day was just luck.
"But that's how everything has been going lately. Everything is good, starting at home with my wife (Jennifer), our older daughter, Calie, and now Bentley, who's brought new life to our entire family.
"It just seems we're all more relaxed and living life the way we should. Everything is good...very, very good," he said.
Rice is just as positive and upbeat about the career he has as a winemaker for Goose Ridge Vineyards and Estate Winery near Richland. He's been a member of that family for five years now.
The common theme in Rice's life appears to be family, including the first he knew, with parents Rob and Sue Rice, sister Courtney and brother Trey.
It thrilled him to no end, in fact, that his parents were on hand the night he tossed the record-setting 854 series at the bowling center his father and mother own and operate.
"The 800 was something I wanted, no doubt, but to do it in front of family, well, that's what made it special," he said.
Obviously, by rolling the 854 series at Valley Lanes Rice set the new all-time high at the Sunnyside center. Ironically, though, the 836 three-game record he snapped belonged to his father, a long-time and still current member of the PBA.
Bragging rights over the seasoned veteran of the lanes, right?
Hardly, laughs the younger of the two men.
"No way...he's still the man," the new record setter insists.
"The things my Dad has done ...where do you start?" he asks. Good question, considering the elder statesman on the lanes has several dozen perfect games to his credit, numerous PBA national and regional tournaments he's either won or cashed in. Oh, and there's the time not that many years ago the now 50-year-old qualified for the finals at the PBA Medford Open and it got televised live Sunday morning on ESPN.
"Bragging rights over my Dad...I wish," the younger of the two men says wistfully. "No, he's been there and done that too many times.
"The best thing I can brag about is that my Dad has always wanted me to do better. The advice he's given me, showing me how to get something done...it's been that way for a long time."
What about following in Dad's footsteps?
"Man, I'd love to compete at the level he's been at," said Rice.
The immediate plan is to get one PBA regional tourney under his belt, hopefully before summer fades into fall. Beyond that, taking into account both the financial and time commitments, Rice knows he has to hone his game if he ever is going to have a shot at the type of success his father has found over the many years.
At the next level, he explained, if you're unable to adjust your shot to what is referred to as the sports pattern, you're not going to advance very far. The sports pattern, basically tracks of oil that determine the point on the lane where the ball grabs traction and begins cutting hard to the pocket, usually spells doom for the amateurs. The difficulty level normally equates to anywhere from a 20 to 40-pin drop in a bowler's average.
The sports pattern on the lanes, Rice said, demands discipline. "You have to stay consistent; it's a muscle memory type thing.
"And you have to be able to read the lanes, figure out pretty quickly what the oil pattern is. I'm getting much better at that.
"For me," he continued, "it's going to be a matter of me putting in the time on the sports patterns.
"It's not easy, but getting to the next level rarely is," he added.
One thing's for certain, though. Rice has already crossed a couple of bridges that few other bowlers have stepped foot on.