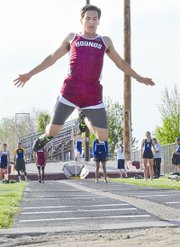 GRANDVIEW - Andy Rodriguez topped the field in the pole vault and teammate Alex Soberanes took a share of the gold in the high jump to give the Greyhound boys two first-place finishes in yesterday's CWAC meet, while Kasi Prieto took an individual race and contributed to a relay team win to give the Lady Greyhounds two first-place finishes as well.
Rodriguez topped the 10-foot mark in the pole vault, a full foot higher than the second-place finisher.
In the high jump, three competitors finished with leaps of 4-10, including Soberanes and two Ellensburg athletes.
Greyhound Jose Castilleja took second-place honors in the 100m run, clocking 11.81, hot on the heels of Alfredo Hernandez of Wapato (11.66).
Sophomore Steven Razo also notched a second-place finish for the Greyhounds in the 300m hurdles. He clocked 42.24 in the race. The top finisher was Ellensburg's Trent Walker (41.71).
The Lady Greyhounds fared slightly better at the meet. Prieto's time of 1:01.87 in the 400m race was nearly five seconds faster than the number two finisher.
Prieto was also part of the winning 4x400 relay team, which included Kaysie Kollmar, Jamila Shafer and Marizza Birrueta. The team clocked 4:26.97.
Shafer also took second-place honors in the discus and the javelin for the Lady 'Hounds. She tossed the discus 101-8. Wapato's Samantha Fate (103-6) won the event.
Shafer also threw the javelin 98-1, second only to Ellensburg's Theresa Vaupel (104). Lady Greyhound Miranda Ebbelaar took third-place honors in the javelin with a throw of 95-10.
Grandview's Morgan Mendoza notched a second-place finish in the 3200m. She crossed the line in 13.52.93. Wapato's Heidy Rodriguez (13:10.42) took home the gold.
In the 1600m race, Birrueta managed a "Top 3" finish for the Lady 'Hounds with a clocking of 5:39.61 to take third-place honors. Ellensburg's Amber Nickerson finished first, crossing the line in 5:36.35.
Grandview's athletes will next travel to West Valley in Yakima for a three-team CWAC meet on Thursday, May 9.