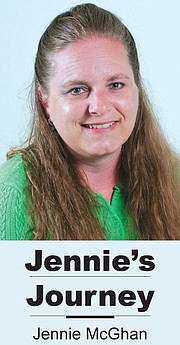 I can't help it. I am so proud of myself for conquering that hill.
What I am talking about is climbing the 800-foot incline that motorcycle competitors were using two wheels and a motor to conquer.
However, that hill can be used as a metaphor because it is often in life that people believe they cannot reach an insurmountable goal.
We do it both physically and mentally.
I nearly gave up physically last Saturday after making my way about 90 percent up that hill. I was out of breath and realized I am not young anymore.
It was like a slap in the face.
When I first arrived and looked at the hill, my stomach began doing flip-flops. I don't like steep inclines and I blame it on my Dad.
He used to terrify me relentlessly and laugh whole-heartedly at my fear when he would scale steep inclines in "the Tank," otherwise known as his Dodge pick-up.
However, last Saturday I set an initial goal of sucking it up. I began to climb the hill, thinking to myself it wasn't as bad as I feared.
As the incline became more challenging, I felt the burn in my underused muscles and I began taking mini-breaks along the way.
My next strategy was to weave my way across the hill to reach my destination.
Like I said, I was nearly to the finish line (literally) when I nearly gave up.
I was out of breath, my muscles were screaming at me, my fingers tingled and my vision was dimming.
I even had to lay down and contemplate my dilemma, thinking "It's not that much further."
After regaining my courage and giving myself a pep talk, I slowly got up from my position and maneuvered the remaining 100 feet or so to reach the flag pole.
When I was at the top, I felt a sense of jubilation. I achieved my goal. Perhaps I was a little crazy, but I was truly proud of my accomplishment.
Life can be like that climb. We see before us a goal that seems nearly impossible to reach because of fear, weariness or the fact that it will take much more work than we feel we have the energy for.
However, it takes determination and strategy...perhaps a few breaks along the way. If we keep our eye on the goal and cheer ourselves on, we can reach our desired destination.
The feeling of accomplishment, believe me, is worth all the effort.