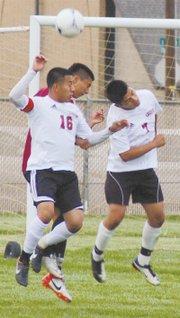 The 3A Grizzly soccer team closed out its regular season in fine fashion last night with a 2-1 victory over visiting Moses Lake, a 4A school.
Thursday night's CBBN contest was scoreless through the first 20 minutes before Sunnyside's Oswaldo Lopez found the back of the net in the 21st minute thanks to an assist from teammate Noe Meza.
The score remained 1-0 through the rest of the first half.
Sunnyside went up 2-0 over the Chiefs just after the break with a Meza goal in the 42nd minute. Just a freshman, Meza bent it like Beckham and drilled in what proved to be the winning score on a free kick.
Moses Lake finally cracked the scoreboard in the 65th minute when sophomore midfielder Rehn Reilly booted the ball into the Sunnyside net.
The Grizzlies held on from there to preserve the win.
Keeper Max Ramos helped keep the lid on tight against the Chiefs with six saves last night.
"Our players are working well together, playing to their potential right now," said Coach David Guevara.
Sunnyside, which closed out the regular season with back-to-back victories, couldn't have picked a better time to build momentum.
The Grizzlies (4-6, 7-9) host a District playoff game tomorrow, Saturday, at 11 a.m. against Southridge. The winner of tomorrow's loser-out contest will advance to Regionals.
"It's a good thing that we're gelling at the right moment," Guevara said. "We finished strong and that's always good."
He adds that the Grizzlies have a chance to "make some noise" in the postseason against similar-sized 3A schools.
With the exception of CBBN league champ and top-5 ranked Eastmont, Sunnyside gained a split in matches against the rest of its 4A league opponents this season.
"It's tough," Guevara said. "You can be anywhere from second place to last in the matter of a win or loss."