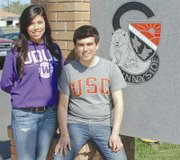 Marthy Hernandez was just home from the dentist after having her wisdom teeth pulled when she saw the ticket to her future.
Sergio Ramirez was playing games on his vintage Nintendo gaming device, "trying to be cool and unconcerned," when his mother presented him with the eagerly awaited package.
So what was in his package? What was that ticket to unlocking her future? Just collegiate financial security wrapped up in the form of a Gates Millennium Scholarship.
Ramirez and Hernandez made the cut from a field of 54,000 students nationwide to be selected as two of 1,000 high school seniors to be named as 2013 Gates Millennium Scholars.
The Sunnyside High School seniors have each been awarded the prestigious scholarship, which will allow them to attend any college they desire. Plus they can attend that college on the Gates Scholarship from their freshman year all the way through to post graduate school. They can even work towards a doctorate, if they so choose. The total package available to each student is determined by which school they wish to attend and includes funding for tuition, books, housing, personal expenses and transportation. The total package can amount to several hundred thousand dollars, per scholar.
As it happens, Ramirez, who has long wanted to attend the University of Southern California, will now be able to fulfill his dream of studying screen writing in the heart of the movie and film industry.
Hernandez, who has wanted to attend the University of Washington since she toured the campus while in middle school, can't wait to begin working on her engineering degree.
In order to be chosen, the duo wrote essays as part of the selection process, sought out letters of reference and supporters to help them succeed in the Gates Millennium Scholar application process.
"They are awesome, well-rounded students," said Diana Blumer, SHS senior class counselor. "Marthy and Sergio are some of our best students."
Blumer said the pair are standouts in everything they attempt - Sergio in drama and Marthy in athletics. Both are leaders and innovative thinkers. Hernandez recently founded the Sunnyside High School's TSA (Technology Students Association) and Ramirez founded SHS's EAC (Environmental Awareness Club)
In addition to carrying a full load of classes, including advance placement classes, Hernandez is a four-sport athlete. During her high school career she participated in track, tennis, soccer and basketball. She also was a member of the high school cheer squad for the football and wrestling seasons. She serves as ASB treasurer on the school executive committee, and is the leader of the high school robotics team. In fact, she wishes the school had offered robotics class when she was a freshman. "I love it," she said.
Her experiences with robotics lead to her basing her senior project on the constructing of and competition with robotics at several regional contests.
As a member of National Honor Society, she maintains a weighted GPA of 4.23. Hernandez is not the first of her family to attend college. Her sister Nidia Hernandez is currently attending Western Washington University.
Ramirez has dreamed of being a screen writer since he was a child organizing his action figures for homemade videos. Applying for the Gates scholarship is helping that dream move a bit closer to a reality. Ramirez said he had a lot of encouragement from last year's Gates Scholar from Sunnyside, Eugene Rivera, who is also attending USC.
Ramirez in turn encouraged Hernandez to stay on task during the application programs. "He helped me a lot," said Hernandez.
While Ramirez sees himself as majoring in entrepreneurship, "...my main focus is on screenwriting."
With a high school background of theater, Ramirez chose as his senior project to co-direct the SHS drama production of "Romeo and Juliet."
"I've appeared in eight of the past four years of high school productions," he said. His interest in writing for films and movies caused him to attend a University of Washington summer screenwriting workshop during his sophomore year. He also is a member of National Honor Society and maintains a weighted GPA of 4.088. In addition, Ramirez is a member of the school's leadership committee, is president of the drama club, plus being in band, where he plays the tenor saxophone. He also participated with the school glee club in his sophomore year and choir in his freshman year.
Now that the anxiousness over the Gates Scholarship situation is out of the way, both Hernandez and Ramirez have one more thing to look forward do. Both plan to attend the opening night of the movie "Ironman 3" Friday night.
"We like super heroes and 'Ironman' is the best," they agreed.