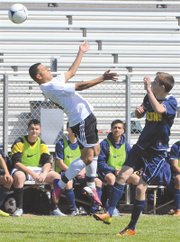 A pressing defense turned out to be a pretty nice offense for the Grizzly soccer team, which last Saturday downed visiting Southridge in a loser-out District playoff match.
Sunnyside's Oswaldo Lopez found the back of the net in just the sixth minute of play and the Grizzlies never looked back in Saturday's 2-1 victory. Lopez was assisted on the score by teammate Enrique De La Cruz.
In the 73rd minute, De La Cruz tallied the game-winning goal on an assist by Noe Meza.
The Suns' only score came in the 38th minute on an own goal when Sunnyside inadvertently put the ball into its own net.
David Guevara shares SHS coaching duties wih Sergio Licona, and said the miscue happened when a Southridge corner kick glanced off a Sunnyside player and into the Grizzly goal.
Guevara says wind played a big impact on the match, with both sides struggling to mount an offensive attack. The key for Sunnyside on Saturday, he adds, was the ability of his team's forwards to serve as a high pressure first line of defense.
"Our goal is for the forwards to run to the ball, to make the other team's defenders uncomfortable," says Guevara.
While Sunnyside's forwards created offense with their defense, keeper Max Ramos kept the Suns in check with five saves.
Saturday's all-or-nothing victory marked Sunnyside's third consecutive win.
The Grizzlies (8-9) will look to make it four in a row when they travel to Spokane Valley Community College tomorrow, Tuesday, for a loser-out Regional contest against Shadle Park.
"They're (the Highlanders) the No. 1 seed (in the Greater Spokane League), so it's going to be a battle," says Guevara. "If we play our soccer we should be very competitive."