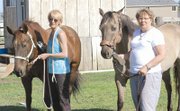 If you were looking for a real life example of old-fashioned cowgirls, you need look no further than Pam Bright of Yakima and Sue Branch of Selah.
They are resilient, strong and determined to conquer wide open spaces and manage the livestock inhabiting those spaces. It's that strength of character that helped them face the toughest battle of their lives. Both are cancer survivors.
Bright fought breast cancer not once, but twice, first in 1991 and again in 2005. Branch began her battle in 1998, overcoming stage 5 cervical cancer.
Horsewomen since childhood, they have never been content to merely greet life on its terms. Both find working with horses therapeutic.
So it should come as no surprise that they would take their love of riding horses to new heights.
While still recovering from her latest bout of cancer, Bright took up team penning. Team penning is the timed sport of moving cattle from one arena to another while controlling fast moving horses and unwilling cows. It's a sport that involves skill, speed and strength. "And I love it," said Bright.
"I get to work with my horse and that is therapeutic by itself, but competing is even better," she explained. Branch began team penning in 2006 and right out of the gate, she beat Bright's time in the same event.
Today, the women, along with Shelley Speck of Sunnyside are organizing an event to give other cancer survivors the same thrill of beating the odds. They created a "Survivor's Draw Class" as a part of the third annual Sort 4 the Cause fundraiser to be held Saturday and Sunday, June 29 and 30, at Speck Arena on Saul Road, Sunnyside.
One of their first contestants for the "Survivor's Draw" is Speck's young neighbor, Kyle Cameron, 15, who has fought his own battle against the big "C". Kyle was diagnosed with Hodgkin's when he was 12, but he is now in remission.
"He was always over here looking at the horses and so we just got him started handling horses," said Speck.
"He asked if he could take part in the Survivor's Draw," she said. So young Cameron will join Bright and Branch in the arena come June 29, Speck said.
Bright, Branch and Speck are passionate about the Sort 4 the Cause event and are thrilled it is the kind of event where every dollar raised in pledges goes back into local programs which benefit cancer victims and survivors. "Last year we distributed $24,000," said Bright. She said the money went to benefit Children's Wishes and Dreams, Wellness House and Washington Hematology.
People interested in enjoying a day of watching practical cowboy skills practiced in the arena are encouraged to attend and make donations.
But more importantly, riders interested in two days of pitting themselves and their horses against the clock and some spooked cows, are urged to sign-up for Sort 4 the Cause by contacting Speck at 509-830-0505 or by email at ssspeckarena@hotmail.com.