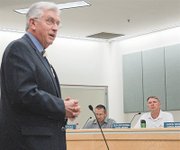 In a meeting designed to provide orientation to new council members, the council was warned to only use city e-mails for council business. Interim City Manager John Darrington also took the opportunity to remind the council of its responsibilities and performance expectations.
The meeting originally was meant to open with a presentation on the open public meetings act and the public records act, but the presenter was unable to attend. Instead, a short discussion about the dangers of e-mail use for council members ensued.
Council members were warned to not use private e-mail for public business. Mayor Jim Restucci confirmed this was an issue, citing a Washington State Supreme Court case from 2010 (O'Neill v. City of Shoreline) that suggests that e-mails received at a private account related to council business are subject to public information requests.
New councilman Francisco Guerrero expressed concern about the case Restucci mentioned. He noted that a lot of his constituents know his work or home e-mail and asked what to do if he received a council-related e-mail at those addresses. It was suggested that he educate people to send city-related e-mails to his city account, as listed on the city's website, and to not delete any e-mail related to council business from private accounts.
Darrington then made a presentation on the roles and responsibilities of public officials, focusing on the mayor, city councilors and city manager as in Sunnyside's form of government.
Using a slideshow, Darrington gave a quick overview of the legal roles of the various positions, then described how the role of city manager changes depending on the needs and desires of the council. He presented the council with its "old operating paradigm" that he developed from talks with council members.
Among the issues discussed were a bad reputation, personal attacks, a toxic environment and micromanagement.
Then Darrington presented the council with a "new operating paradigm" made up of what council members told him they wanted. The council wants to work toward healthy debate, mutual respect, equal access to information and compromise.
Darrington gave a list of rules that could be adhered to by council members immediately to start improving the situation in the city. He also talked about leadership, telling the council that good leaders give energy rather than take it away.
At the end of the meeting he asked the council members to commit to getting rid of two bad habits. Many of the councilmen talked about avoiding micromanagement and having faith in others to do their jobs.
Councilman Raines said he resolved to keep open lines of communication between himself and the staff so he is better aware of what is happening.
Deputy Mayor Don Vlieger said he would give people the benefit of the doubt instead of assuming they were being negative for negative's sake.
Councilwoman Theresa Hancock said she would stop reacting to what she perceives as other people's motives and would stop "checking out" during meetings: failing to pay close attention or fight for what she thinks is right.
"It's been a rough four years," she said. "What I vow to do is start fresh and give up old injuries."
Darrington noted his years of experience in city management.
"I've worked with a lot of elected officials, and I've worked in a lot of different situations," he said. "And I don't see anything here that's insurmountable, that can't be fixed."