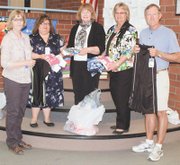 MABTON - A child falls on the playground and rips her pants. Another child has a spill or accident or muddies his clothing.
They are emergencies Artz-Fox Elementary School Counselor Laura Rogers sees on a regular basis.
The result is most often a child who's embarrassed and feels duress made worse by waiting until someone brings clothing from home - if anyone is at home - or until the school can dry their clothes if no one is available at home.
That's not the case any longer, thanks to a group of local Lutherans who last Friday provided $400 worth of undergarments, socks and sweat pants to tide youngsters over during those emergencies.
"It gives them a sense of security," Rogers says of having the back-up clothing on hand.
The items were donated through an organization known as Thrivent Financial for Lutherans. The organization was alerted to the Mabton school's need by Joanne Vining, a member of Immanuel Lutheran Church in Grandview. Vining said she saw that the school was looking to implement a dress code and felt students could benefit from extra clothing to help defray costs.
"It was a blessing," says Olga Mariscal, a Readiness to Learn case manager at Artz-Fox when she got the call from Vining about helping.
In response, Thrivent donated $400 worth of clothing items. Vining and other members from the Grandview church visited Artz-Fox last Friday to deliver the clothing in person.
Gary Rohde pastors Immanuel Lutheran, and praised the members of his congregation for concern that has reached out to others throughout the Lower Valley, including food banks here in Sunnyside.
"We're thrilled to be able to help out," Vining said of Friday's presentation at Artz-Fox.