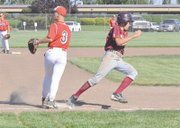 It was supposed to be a few spot appearances atop the hill this season for left fielder Alex Brouwer.
The Sunnyside Christian senior, methodically and with seemingly pinpoint control, has somehow transitioned into the Knights' ace atop the mound.
Brouwer (5-0) went the distance yesterday, striking out a season-high 11 batters while yielding just two hits in Sunnyside Christian's 12-2 win over the Granger Spartans.
Tuesday's victory came in the SCHS baseball team's final game of the regular season. The Knights, the Greater Columbia 1B League champs with a 4-0 conference record, take an overall 10-8 mark into this coming Saturday's District tournament.
The 11 a.m. playoff game in Kittitas, with an as of yet undetermined opponent, is a loser-out affair. Should Sunnyside Christian emerge victorious, the Knights will play again Saturday afternoon at 2 p.m., also a loser-out game.
Two victories at District will propel Sunnyside Christian into the 'Final 8' round of the 1B State tournament. The first two State tourney games are scheduled to be played on the West Valley High School diamond in Yakima.
In knocking off the visiting 1A Spartans yesterday afternoon, Brouwer limited Granger's batters to just two hits. He was also stingy in giving up free passes, issuing just one walk.
Brouwer helped his own cause by cracking both a single and a double. He scored twice and drove in a run, and also coaxed a pair of base-on-balls off Granger's starting pitcher, Macias.
Sunnyside Christian, too, received a strong 3-for-3 effort at the plate from Drew Puterbaugh. His big hit was a third-inning triple.
Also for the Knights, Wyatt Hoff went 2-for-2 and collected two RBI; and back-up catcher Reid Benjert - only a freshman and making his first start behind the dish - ripped an RBI double in the bottom of the second in his only official trip to the plate.
The Knights built a 4-2 lead on Granger heading into the home-half of the sixth, but erupted for eight runs that frame to bring the contest to an end. Hoff, Brant Bosma and Brandon Moore each had singles that inning. Sunnyside Christian also took advantage of three walks and two Granger errors in the sixth.