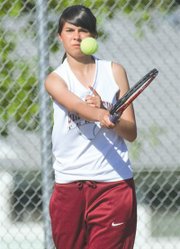 GRANDVIEW - With the exception of the No. 1 girls doubles match, Grandview's boys and girls tennis squads didn't have many highlights to look back upon after the Ephrata Tigers walked off the Greyhound courts Tuesday afternoon with a pair of 5-0 victories.
The Tigers nearly didn't pull off the shutouts, however, as Gabby Avalos and Esmeralda Jacobo threw everything but the kitchen sink at the Ephrata No. 1 girls doubles duo of Demi Brekhus and Kim Beck.
Brekhus and Beck took control early on, claiming a 6-3 win in the opening set. The GHS pair of Avalos and Jacobo, overcoming the extremely warm weather conditions for this time of year, stiffened in set-two and sent the Tigers reeling, 6-4.
That forced a rubber set. Perhaps done in by both the heat and expending a considerable amount of energy to send the match to a third set, Avalos and Jacobo finally succumbed to the two Tigers, 6-2.
GHS Coach Ronda Penwell praised the play of Avalos and Jacobo, noting the two Lady 'Hounds are showing great improvement each time they play together.
"They lost a hard fought three-setter in the scorching heat," Penwell said.
Grandview's tennis squads are now scheduled to enter District tourney play, which opens this coming Saturday at West Valley.
BOYS
Singles
No. 1 - Hunter Sears (E) dec. Fernando Lujan (G) 6-0, 6-0
No. 2 - Connor Maddalozzo (E) dec. Logan Alvarez (G) 6-1, 6-1
Doubles
No. 1 - Michael Bosner & Matt Jones (E) dec. Fernando Serna & Jose Ramos (G) 6-2, 6-0
No. 2 - Garner Sears & Stenn Monson (E) dec. Juan Sanchez & Eli Billareal (G) 6-0, 6-0
No. 3 - Calvin Callahan & Mauricio Contreras (E) dec. Devin DeLeon & Victor Delgado (G) 6-0, 6-0
GIRLS
Singles
No. 1 - Naimi Kooistra (E) dec. Taylor Hamm (G) 6-0, 6-0
No. 2 - Tessa Ratigan (E) dec. Evann Swearingen (G) 6-0, 6-0
Doubles
No. 1 - Demi Brekhus & Kim Beck (E) dec. Gabby Avalos & Esmeralda Jacobo (G) 6-3, 4-6, 6-2
No. 2 - Teighan Moore & Stephanie Olivares (E) dec. Marlen Corona & Michelle Arciga (G) 6-0, 6-0
No. 3 - Amairany Martinez & Aubrey Smith (E) dec. Diana Godinez & McKenzie Rios (G) 6-0, 6-0