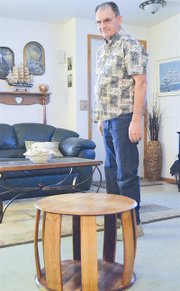 GRANDVIEW - For Art Cox, making furniture is a pastime.
The Grandview man has been making furniture, using old wine barrels for a few years.
Cox said his daughter made a request of him when she spotted a wine storage cabinet made from a wine barrel. She asked him if he could use his skills to make something similar.
Thus, the venture in furniture-making began. The cabinet was a hit and several other family members began making requests of Cox.
"Each barrel is different, so each piece is unique," he said, stating he has made ottomans that double as storage and coffee tables, as well as folding chairs and bistro tables.
This spring, Cox began making standing planters, as well.
"Each idea was inspired by an idea from a family member," he said.
"I could stay busy all the time, but I have trouble finding barrels and I want to have some time for fishing," Cox said a day before embarking on a 10-day fishing venture.
His wife, Barbara, said, "He's a frustrated inventor."
Cox said he makes the furniture in a 12'x16' shop and that doesn't leave him enough room to make the furniture-making a full-time job.
Instead, he said, it is a hobby that he enjoys when he needs to pass time.
"I don't like sanding," admitted Cox, stating wine barrels are rough and require a lot of attention when he is making furniture.
Cox said the most popular item he has made is a patio bench, but each design is a modified version of another piece he has made.
When a family member hasn't put in a request, Cox's furniture can be found at Bonnie's Vine and Gift in Prosser or at Tucker Cellars in Sunnyside.
"I don't want it to be a full-time job, so I just drop by when I have a piece that is available," said Cox.
He said he can be found fishing or visiting family when he isn't busy making furniture.
"Making furniture just fills time."