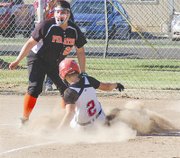 Shawna Santini sparked her team with some base running and was helped by serious small ball from her teammates in the first inning of last night's game to lead the Lady Grizzlies to a 6-5 win over the Davis Pirates.
For Sunnyside, the victory was its first of the season after opening the spring campaign with 17 consecutive losses. Overall for the SHS softball program, its losing streak had been at 61 games.
Down by a run in the bottom of the first, Santini reached base on an infield hit and was moved to second on a perfect sacrifice bunt by Amber Cornwell. Another 1-3 play moved Santini to third and she scored on a wild pitch, sliding home to tie the game.
Coach Ralph Mendoza said Santini showed a lot of leadership on the defensive side, playing solidly at shortstop with no errors.
"She had quite a few put outs," he said.
In the bottom of the fourth with the score still tied, the Davis pitcher faltered and hit two batters in a row. After a fielder's choice and a walk, Santini came to the plate with the bases loaded and slapped a single that scored the lead runner, Dalia Romo. A second run was driven in when another batter was hit with a pitch with the bases loaded.
The Lady Grizzlies added to their lead in the bottom of the fifth by starting the inning with three singles, the third one by Jordan Harrington, driving in a run. Monique Gil worked a walk out of the Davis pitcher and Santini came up with the bases loaded again to lay down a run-scoring sacrifice bunt. Harrington eventually scored on a wild pitch.
"This was a combination of a lot a players working hard," said Mendoza. "The team came together as a whole to win the game."
Mendoza said Cornwell pitched a strong game and only got a little rattled in the top of the seventh. The Lady Grizzlies gave up four runs to the Pirates, but managed to get out of the jam for the win.
"It was good to get that monkey off our backs," said Mendoza of the 17-game losing streak this season.
Davis scored its five runs on six hits with no errors. Sunnyside had six runs on seven hits with three errors. Both Santini and Romo had two hits each.
The Lady Grizzlies (1-12, 1-17) finish the regular season on the road at Davis this Friday, May 10.