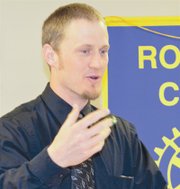 Sunnyside Daybreak Rotary Club members this morning (Wednesday) were provided some clarification regarding Washington state's marijuana law.
That's because Alex Newhouse, a Sunnyside attorney and supporter of the law, is knowledgeable about the restrictions and intricacies of I-502.
Newhouse said the state expects to see growers and sellers of cannabis up and operational by this coming December.
He said the state has taken great measures to ensure that the licensing and regulation of marijuana is done carefully.
"Most are surprised I supported the issue," Newhouse said, noting he is a conservative Republican.
However, he said he took into consideration three important factors when supporting the marijuana law.
Newhouse believes in fiscal responsibility, benefits to the community through the legalization of marijuana for recreational use and he considered the role of the government.
He said, "Not many people around here supported it (the law)...believe me, I know."
Newhouse said the law is written so that the possession of marijuana is a misdemeanor if the quantity is between 1 ounce and 40 grams. Anyone in possession of more than 40 grams can face felony charges. Also, smoking marijuana in public is illegal, and anyone under the age of 21 is prohibited from possessing the substance.
"The law is extremely strict," said Newhouse.
"If you deviate from the law, it's felony behavior."
He said there are many rules currently in place regarding marijuana use and the Washington State Liquor Control Board will be implementing more rules.
Newhouse said there is a 25 percent excise tax at every stage of marijuana production, as well.
As to the primary reason that Newhouse supported I-502, he said he supports the production of industrial hemp.
Hemp, he said, has many uses and it is closely related to hops. Because of the plant's relation to hops, Newhouse said he believes it would grow well in the Yakima Valley.
He said hemp has very low concentrations of THC and a person cannot become intoxicated from it.
The newly enacted Washington state marijuana law defines the difference between hemp and marijuana.
"Technically, hemp is legal now," said Newhouse.
Rotarian Ivan White asked if hemp can be exported from Washington state.
Newhouse told him it cannot. That's because the federal government has not yet recognized the difference between industrial hemp and marijuana plants.
Marijuana, he said, is going to be strictly regulated. Growers can also be processors, but they cannot sell the product. Advertising will be restricted and marijuana cannot be grown, processed or sold within 1,000 square feet of a place frequented by children.
Newhouse said testing for impairment is much like testing for blood alcohol levels. He said five nanograms of THC in a person's blood is considered intoxicated.
"The good thing is the conversation is taking place," Newhouse told the Sunnyside Daybreak Rotary Club.