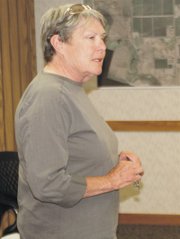 Gayle Wheeler raises beef cattle in the Prosser area and, like most producers in the Yakima Valley, relies on the flow of irrigation water to work their land.
Except this spring Wheeler has had difficulty in getting a steady supply of water and yesterday she shared her frustration with the SVID board of directors.
"I pay the same amount that users pay in the west end," Wheeler told the board Tuesday. "They were getting water and I wasn't."
She says the situation was especially bad early this spring when several irrigators tapped heavily into the water to take freeze control measures.
Wheeler noted the irrigation water supply is improving at the east end of the district, but asked SVID staff and board members to find a fix for 2014.
"I can't agree with you more," replied SVID District Manager Jim Trull. "A lack of quality service, we have not been happy about it either. We're not happy when we're not providing a good product."
He said a mix of issues have hampered service in the east end of SVID's delivery area. Trull noted a new automated system had some freezing issues during near-record low temperatures earlier this spring. That was compounded by heavy draws of water for freeze control.
In addition, Trull told Wheeler that with Benton pulling out of the SVID system it is more difficult to control flows on the lower end of the line.
As for water usage for freeze control, Trull said, "Our policy is not to deliver water, but as a practical matter we do."
He said SVID is taking steps to remedy the situation before next spring. Further, Trull praised efforts underway now to get water deliveries on a more consistent basis to the east end of the district.
He noted Dave Bos, an assistant manager responsible for SVID's operations and maintenance activities, was out until 2 or 3 a.m. some mornings this spring to personally monitor the flow of water to make sure it didn't draw down too low or rise too high.
"It's been a frustrating spring for me as well," said Bos, formerly a ditch rider for SVID.
While Trull and the board did not address Wheeler's request for compensation due to the loss of irrigation water this spring, she was pleased to hear of SVID's concerns and efforts to remedy the situation.
"As long as I know you're working on it, that makes me happy," she said.