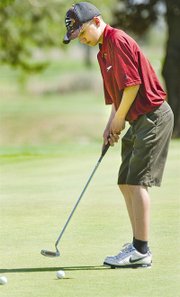 Grandview's Greyhounds will be hosting the CWAC 2A District boys golf tournament next Tuesday at Black Rock Creek Golf Course. As a tune-up for the postseason competition, the 'Hounds entertained Ephrata, Ellensburg and East Valley yesterday for an 18-hole "friendly."
As expected, East Valley's Andrew Raab and Aaron Whalen of Ephrata paced the four-school field around the well-groomed track Wednesday afternoon.
Raab claimed medalist honors with a 2-under-par 70. Whalen was two shots back at even-par 72.
Raab finished at one-over on the front nine, due mainly to absorbing a double-bogey on Black Rock Creek's toughest rated hole, the par-5, dogleg right sixth. The East Valley linkster shot a 3-under 33 after the clubhouse turn.
Grandview, missing two of its golfers, got a team-low round of 116 from Dylan Parker. He managed a 62 on the opening nine holes, but cut eight strokes off that total for a back-side 54.
Adam Fleming of Grandview enjoyed a career-type day yesterday, carding a personal best 120, on front and back nine scores of 61-59.
Rounding out the team scoring for the Greyhounds was Henry Pond's 128 (58-70).
Come the District tourney next Tuesday, May 14, Grandview expects to have a full five-man squad on hand. The two other golfers, both missing yesterday from the line-up, are Justin Murbach - who was working on his senior project, and Matt Dailey - who's been injured but appears on the mend.
In action yesterday the Ellensburg Bulldogs' low scorer was Riley Miller, who shot an 87 for his 18-hole round.