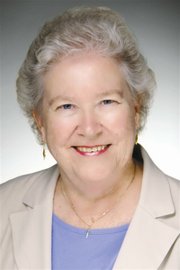 A woman whose sole existence appears to be improving the lives of those she regularly comes in contact with is seeking a seat on the Sunnyside School Board.
Sister Mary Rita Rohde, a founding member and executive director of Nuestra Casa, as well as a former Toppenish School Board director, has filed to be elected to the soon-to-be vacated Sunnyside School Board seat now held by Lorenzo Garza.
His position on the local school board, as well as the seats of Sunnyside school directors Miguel Puente and Michelle Emery Perry, are in the hands of local voters come this fall.
The candidate filing period at the Yakima County auditor's office officially doesn't open until next Monday, May 13. However, Yakima County accepts declarations of candidacy through the mail, by fax and e-mail as early as late April.
Rohde, who indicated she filed for public office on-line this past Tuesday, said she made the decision to seek election to the Sunnyside School Board when Garza officially announced at the April 30 board meeting that he would not be running for re-election.
"My main concern is that all children in Sunnyside receive the best possible education," Rohde said.
"To make this happen students' families need to be engaged in an ongoing manner in their children's education."
Rohde, herself, has been involved in education for much of her adult life. She has spent time as an educator, including work as both a high school teacher and a high school principal. She also spent 13 years as a professor of education, serving in that capacity at Heritage University and Fort Wright College.
This is Rohde's second attempt at campaigning for a seat on the Sunnyside School Board. She challenged long-time board member Joanne Kilian in 2005, narrowly losing that election by an approximate 51 to 49 percent margin.
A Lower Yakima Valley resident for 30-plus years, initially living in Toppenish before moving to Sunnyside, Rohde has served as executive director of Nuestra Casa for 10 years. The organization, highly acclaimed and financially supported by numerous local businesses and philanthropic groups, devotes its efforts to educating the Lower Valley's adult immigrant population. Nuestra Casa's purpose, said Rohde, is teaching self-reliance through such means as English education, civics and citizenship.