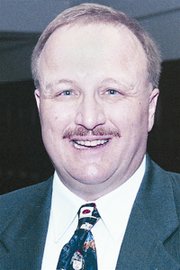 The Washington Association of School Administrators, PEMCO Insurance and School Employees Credit Union of Washington have selected Sunnyside School District Superintendent Dr. Richard D. Cole as a recipient of the 2013 Robert J. Handy Most Effective Administrator Award.
He received the award at the Washington Association of School Administrators superintendent workshop in Chelan this past Monday.
Association officials said in 2007 Cole led the Sunnyside School District board and staff in the development of a clear, focused and shared vision for every student in the district.
Even with the high-poverty community and the many external challenges facing the district's youth, Cole's strong belief that all children are capable of academic success helped shape that vision, said Association staff.
In 2007, the graduation rate was 41 percent and in 2012 increased to 79.5 percent. With Cole's leadership, added Association officials, the district is closer to its vision of success for every student.
"While I am very humbled and appreciative of this prestigious award, I wish to accept it on behalf of the entire Sunnyside School District staff," said Cole.
"We are truly one team working towards one overarching goal, success for all students. In pursuit of that goal, we have undergone many changes to the way our schools teach and learn.
"Our staff has risen to the challenge of developing and implementing innovative strategies to help our students reach higher levels of success than ever before," he added.
A peer committee selects the winners from nominations that describe how each nominee is taking part in realizing the nine characteristics of high-performing schools/districts as defined by research from the Office of Superintendent of Public Instruction.
Three school administrators are selected for the award each year in categories of: less than 500 students, 501-2,000 students and 2,000+ students. Cole was the recipient for school districts with more than 2,000 students.
The Robert J. Handy Most Effective Administrator Awards seek to recognize outstanding public school administrators in Washington state.
Robert J. Handy, the awards' namesake, founded the PEMCO Life Insurance Company. He was a Seattle school teacher during the Great Depression whose vision of providing low-cost loans to school teachers grew into what is now the School Employees Credit Union of Washington.
The Washington Association of School Administrators is a statewide professional association representing nearly 1,100 members, including superintendents, central office administrators and building principals.