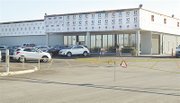 Nearly a third of the valuation for new building starts approved in Sunnyside last month came from just one project - a large remodel for the C. Speck dealership.
Located at 61 E. Allen Rd., C. Speck plans an "overall facelift to the dealership," according to city building officials who filed the building report.
Valued at nearly $400,000, the project will include removing interior walls, developing new office space, separating the service area from the service counter and new windows.
C. Speck paid $4,379 in permit fees to the city of Sunnyside for issuance of the building permit last month.
Mountain States Construction of Sunnyside is listed as contractor for the C. Speck project.
Total combined valuation is $1.26 million for new building starts greenlighted last month.
Though it's been in the works since January when exterior road and curbing work had to be done, Sunnyside Community Hospital's new permanent MRI center is now officially on the city's building permit roster as of last month.
Valued at $600,000, the hospital's remodeling efforts for the new MRI facility generated $6,123 in permit fees to the city of Sunnyside.
Also in April, Sunnyside building officials gave the okay for construction of a new four-bedroom home at 1601 S. 13th St. in Aho's Harvest Village development. The home is valued at $188,524 and the city's coffers received $2,466 in permit fees for the new housing start.
Commercial construction also saw activity here last month, as city officials approved development of a 25x31 building shell for the back of an existing commercial building at 520 S. Sixth St. That project is valued at $30,000.
Another commercial development given thumbs up in April was construction of an office and restroom for a new repair garage at 2400 E. Yakima Valley Highway.
The 40 building-related permits issued last month brought in a combined total of $17,619 in permit fees for the city of Sunnyside.
Year-to-date for 2013, Sunnyside officials have issued 132 permits related to building projects with a combined valuation of $3 million.
The city of Sunnyside has garnered $48,764 in fees for projects receiving permits through the first four months of 2013.