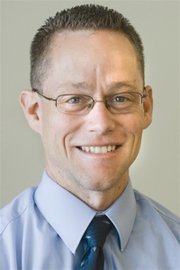 A Pocatello, Idaho native who moved to Sunnyside 15 years ago is throwing his hat into the ring for the District 5 director's seat on the Sunnyside School Board of Education. He is Dylan Gardner, married with five children - four of whom are enrolled in the local public schools.
The position Gardner is campaigning for is now held by long-time board member and current board chair Miguel Puente. He is vacating the seat because he is in the process of relocating his residence outside of the District 5 geographic boundaries.
If elected, Gardner would serve out the two-year unexpired term. The position will be back on the fall ballot in 2015.
Gardner has held the position of pharmacy manager at the Sunnyside Bi-Mart store for the past 13 years. He is the lead pharmacist there.
A 1998 graduate of Idaho State University, Gardner was a member of the U.S. Army Reserves while attending the college. He advanced to the rank of sergeant.
He points out that he is bilingual, as prior to attending college he learned to speak Spanish while living in the Dominican Republic for two years.
"I have enjoyed living in Sunnyside and having my children attend the schools here," Gardner said.
"I think education is very important and want to be a part of providing my children and all children in Sunnyside a quality education.
"To me, quality education has several components, including a good understanding of math, reading, science, writing and the humanities.
"It is also important to help our children develop socially and learn a sense of civic responsibility," Gardner continued.
"If elected I would work to accomplish these goals.
"I would appreciate the opportunity to help the schools continue to grow and improve," he added.