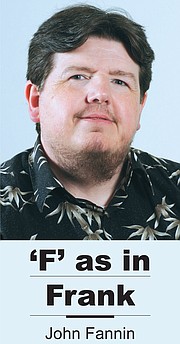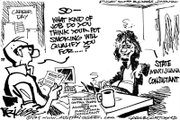 The other day I saw a national survey claiming the worst job in the world is that of newspaper reporter because the occupation is in danger of disappearing in the next 10 years.
Of course, since the days of radio there have been those predicting - hoping? - for the demise of newspapers. Yet, many of the reports you see on television or on the internet have their origins on the printed page.
For example, when a TV anchor says the station has "learned" about a newsworthy item it often - not always but often - means its staff either read about it in a newspaper or got a call from a viewer who read said story in their local paper.
While technology will surely have its impacts, the job of being a newspaper reporter - especially at community papers like this one - will likely be around for decades to come.
However, in the wake of current events, here's a tongue-in-cheek look at what the Lower Valley's most endangered jobs will look like in 10 years time.
To wit, in the year 2023:
With Sunnyside firing its eighth city manager in a span of 10 years and no takers for the post, head-hunting consultant Neta Moore-Munny recommends hiring Deputy Mayor Emeritus Don Vlieger for the post as "...he seems to know it all anyway."
The Yakima Valley's last dairy family goes out of business in the wake of the sixth lawsuit in the past decade filed by CORE (Completely Off the Rail Environmentalists) against the dairy industry. In related news, local school districts are forced to switch to powdered milk and Cheez Whiz for their school lunch programs.
Twenty-two workers lose their jobs when the fifth wine tasting room in the last eight years closes its doors in the Lower Valley due to competition from marijuana smoking parlors. The parlors became popular with the drug's legal status back in 2013.
In related news, the Daily Sun News publishes its first-ever special section honoring "Hemp Appreciation Week." The insert recognizes hemp farmers in the valley, many of whom had grown wine grapes in the previous decade.
In even more related news, YVCC-Grandview celebrates the first graduates of its new hemp growing and marketing program.
The Lower Valley's last independent, non-denominational Christian evangelist is fired when he preaches against abortion and gay marriage from the pulpit.
Now, I hope none of these sad scenarios come to pass - and I do mean none - but it all makes me wonder.
After all, 10 years ago who would have thought that a florist could be sued by the government - her very livelihood challenged - for turning down a marriage ceremony?
Or, for that matter, who would have 10 years ago thought that after decades of stability Sunnyside would tear through city managers at the rate of about one per year?
Stay tuned.