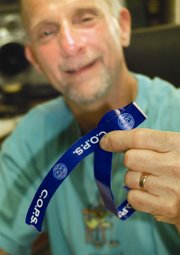 In recognition of Law Enforcement Memorial Week (May 12-18), a Sunnyside pastor has launched an initiative encouraging the public to display blue ribbons this week.
This is the second year of the blue ribbon campaign, and Bob Widmann, pastor at Cornerstone Assembly of God in Sunnyside, said he started it to "...show a sign of support" for law enforcement.
The ribbons can be picked up free of charge at the Daily Sun News office, 600 S. Sixth St. in Sunnyside.
Widmann, a chaplain for the Sunnyside Police Department, noted the national, week-long emphasis was started by President Kennedy to recognize law enforcement officers who have lost their lives in the line of duty for the safety and protection of others.
The focal point, Widmann says, is the official Law Enforcement Memorial Day on May 15.
Nationally, he notes that the number of law enforcement officers losing their lives in the line of duty has increased markedly from 116 in 2009 to 165 in 2011.
While last year saw the number drop to 127 lives lost while on duty, Widmann says the number of officer deaths is on pace to jump by 21 percent this year.
The blue ribbons can be tied around antennas or worn in a bow on a lapel. The main idea, says Widmann, is to display the ribbons as a way to say thank you.
"It's a pretty thankless job," the pastor says. "Every time they put on their uniform they put their lives on the line for us."