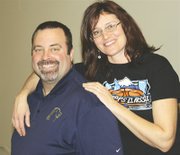 PORTLAND - Twenty-five years after he played for the 1987-88 Grizzly basketball team that earned an eighth-place trophy at State, Bryan Lewellen coached a team of his own to a State title.
It all happened this past March as Lewellen, a 1988 Sunnyside High School grad, guided the City Christian High School team of Portland, Ore. to the State 1A boys hoop title.
In his fifth year at the school, roughly equivalent to a 1B team in this state, Lewellen led the Lions to a record of 29-2.
Serving as both athletic director and head basketball coach for the private school, Lewellen has guided the boys program to a State tourney berth in three of the last four years.
"We figured if we could stay healthy we had a chance to make a good run this season," Lewellen says. His team earned its State crown with a 41-39 win in the title game over defending champion Horizon Christian of Hood River, Ore.
"Horizon was the heavy favorite all year long, but we set our sights high," he says.
Prior to his current stint at the Portland school, Lewellen coached baseball and basketball at Riverside Christian High School in Yakima, then called Westside Christian.
Lewellen's previous experience also includes eight years working with youth in juvenile detention.
"For me, I really enjoy working with kids in a youth group setting," he says.
That, plus his love of sports, makes his work at City Christian a perfect fit.
Lewellen's love of sports began here in Sunnyside, where he played basketball and baseball for the Grizzlies.
"That's where things started for me," he says, praising the influence of coaches Rick Linehan, Deke Berchtold, Dan Wold and Dave Cullen.
Lewellen, who went on to play baseball for Grace College at Winona Lake, Ind., said he still remembers those lessons he learned here in Sunnyside.
"The group of guys I played with, we learned about the importance of chemistry," he says. "Playing as a team stands above the X's and O's."
He says hours upon hours of practice year-round with SHS teammates like Troy Martin, Chris Cantrell, Ryan Schilperoort and Jeff Thompson helped turn the Grizzlies into a State-caliber squad.
"The time we spent playing at the park on Harrison Hill taught us that repetition is the key to being successful," says Lewellen.
The trademark of that 1987-88 State trophy team was non-stop, full-court pressure. Lewellen recalls the Grizzly team earned the nickname "Press Express," and its reputation preceded it at the TacomaDome, where the State tourney was held.
"A story from the
Seattle Times
said the Press Express was coming to Seattle," Lewellen recalled.
In a play on that moniker, SHS coaches set up a publicity photo shoot on a train for the 87-88 Grizzlies before they headed to State.
In a nod to that history, Lewellen did the same thing with his Lions team this year - which also plays a full-court style - in having his players pose for a picture on a train.
"It's the same idea with this group," he says of the 2012-13 City Christian squad. "Like that Grizzly team we play a high-octane level of basketball," Lewellen laughs. "The Press Express rides again!"