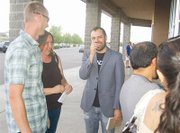 It may not have been a red carpet event like those held in Hollywood, but it was a pretty big event for Granger native Rick Castaneda.
Three years ago the 1999 Granger High School alum set about filming his dream project, "Cement Suitcase," featuring the sights and sounds of his hometown.
This past Saturday night, his family, friends and many supporters gathered at Hallett's Grand Cinema in Sunnyside to view the finished version of the film project.
It was a big event for the more than 180 people attending the private movie screening, many of whom had helped in some way to make Castaneda's film become a reality.
The film "Cement Suitcase" is not a travelogue in the sense that locations from Wapato to Prosser, which served as the film background, were not beautiful. Rather, it's a story of a man's journey to unload a lot of personal baggage.
Castaneda, who had contacted long-time family, friends and relatives, and even city officials to create the setting for his film, thanked the movie audience following the screening for their generous support.
"I've always wanted to shoot a film in the Yakima Valley and I hope you like it," Castaneda said.
Airfield Winery of Prosser, owned by the Mike Miller family, was one of the locations for the film, as was the Miller ranches east of Sunnyside. The Zillah grocery short was the setting for a huge shopping car sculpture scene and Toppenish Police Chief Adam Diaz even had a small cameo in the film.
"Cement Suitcase" also features another Granger celebrity, Kristin Guerrero, who is a broadcaster in the Los Angeles entertainment market.
The independent film also featured a lot of extras pulled from the various locations, including Gary and Ros Anderson of Mabton, who acted as tourist wine tasters.
Among the many Yakima Valley locations used in the film were Columbia Bank in Sunnyside and the Northern Pacific Railway Museum in Toppenish.
Local film sponsors included Bon Vino's of Sunnyside, who catered many of the meals for the "Cement Suitcase" cast and crew.
The film, which is not in public release yet, has been accepted as an entry in the Dances with Film Festival to be held June 2 in California.
"We just have so many people to thank for the making of this film," Castaneda said.
Castaneda encouraged those who wish to check out the film's future progress, to check out the cementsuitcase.com website.
"Don't forget to like us on Facebook, too," he said.