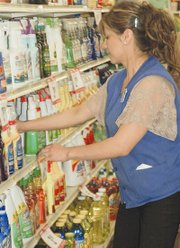 Christmas is still seven months away, but it feels like that busy holiday season has already arrived for Lupe Ibarra, a receiving/sales clerk at the Sunnyside Bi-Mart store.
"It's busy like Christmas," Ibarra smiles as she notes the seasonal shift from spring to summer brings with it everything from new furniture to new plants.
Ibarra has worked at the Sunnyside store for nine years and before that worked a decade for the former Food Depot here in town.
Her responsibilities at Bi-Mart include working as a sales clerk. "I get to meet a lot of people," Ibarra says.
But she also helps out in the receiving area, unloading new products just arriving at the store. "I get a sneak peak at what's coming in," she says.
Ibarra's other primary responsibility at the Sunnyside Bi-Mart is stocking and maintaining shelves with several products, ranging from pet food to household cleaners.
"It keeps me busy all day," she says of making sure product items on the shelves in her section are lined up perfectly in order.
A lifelong Sunnyside resident, Ibarra enjoys her job at Bi-Mart and the fact that no two days are ever alike at the busy store.
After nearly two decades in retail store experience, Ibarra says the job and her customers still keep her on her toes, whether it's Christmas in December or Christmas in May.
"You learn something new every day," she smiles.