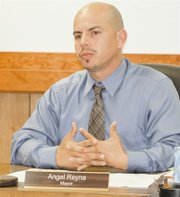 MABTON - With great regret and some trepidation, Mabton Mayor Angel Reyna announced to the Mabton City Council he is resigning as the town's leader, effective May 31.
As soon as Mayor Reyna made his announcement, the council began discussion as to who would fill his seat for the next seven months.
His announcement comes in the middle of candidate filing week, which has already seen Mabton Councilman Mario Martinez step up to announce his candidacy for the mayor's position.
Even though the mayor resigned, the council can't vote on Reyna's replacement until he actually steps down, said Ret Stewart, City Clerk/Treasurer. But that cautionary warning didn't preclude Council members Mario Martinez and Vera Zavala from verbally vying for the top council spot. Both spoke of their accomplishments while serving on the council.
While Zavala said she didn't want the job full time, she is interested in serving for the next seven months.
Martinez suggested since he has already been actively involved in many of the interagency meetings pertaining to many of the city's major on-going projects, such as the wastewater treatment plant, it would make sense for him to fill the appointment, at least until the election.
The council will make its mayoral appointment at the June 11 meeting.