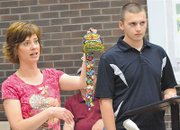 GRANDVIEW - The fourth annual Sage Rat Run will take place this coming weekend.
Participants will be flocking to the Lower Yakima Valley to raise funds for Ronald McDonald House and other causes that benefit from the event, according to Sage Rat Run founder and director Gabriel Akins.
What began as a senior project a few years ago has grown to become an annual event, he told the Grandview City Council last night.
He said more than $5,000 was raised last year and this year's event promises to be bigger than ever.
"It's a multi-distance event...staff from the communities and numerous volunteers make it possible," said Akins.
He told the city council members the Sage Rat Run brings runners of all ages to Prosser, Grandview and Sunnyside.
The course for the race has participants running from Prosser to Sunnyside. Law enforcement officers at the state, county and city levels help keep the race safe, providing traffic control.
Akins said it is a community effort to make the Sage Rat Run successful.
This year, he and his team of organizers have added a kid's mile to the event. There is a 5K, 12K and half marathon planned for this coming Saturday. On Sunday, a 15K and a 50K run will take place.
In addition to raising funds for Ronald McDonald House, a portion of the proceeds is used to purchase trauma kits for local law enforcement officers. The Prosser Memorial Foundation assists with the purchase of the kits.
Akins said he has had numerous mentors who have helped him organize the growing event.
Also new this year will be a fundraising dinner on Friday night at Sunnyside's Snipes Mountain Restaurant and Microbrewery. The featured speaker at the dinner will be Tara Costa, who was the winner of the televised reality program, The Biggest Loser.
She will also be competing in the 5K and 15K events during the Sage Rat Run.
Akins said there will also be several raffle giveaways. Raffle items include an iPad, an iPad Mini and other goodies.
"Volunteers and participants are welcome," said Akins, stating anyone can support the Sage Rat Run.
"We currently have 675 participants registered," he said, noting last year there were just more than 400 participants.
His mother and fellow organizer, Terri Akins, told the Grandview City Council there are a number of family members and friends that support those participants. She estimates 2,000 people will be in the Lower Yakima Valley specifically for the event.
Full details and registration information for the event are available online at www.sageratrun.com.