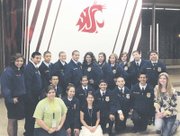 PULLMAN - On the afternoon of Wednesday, May 8, a total of 17 Mabton FFA members, Mabton FFA Advisor Randi Krieg, two FFA alumni, Karen Mendoza and Nohemi Meza, and parent volunteer Jose Meza made the long journey through the Palouse Valley to Pullman.
This select group of junior high and high school students competed at the state FFA convention for five days on the Washington State University Pullman campus. The convention hosted more than 3,000 FFA members and guests from all over Washington state. The Mabton FFA chapter competed in six career development events, or CDE's.
Career development events help students develop the abilities to think critically, communicate clearly and perform effectively in a competitive job market. There are 32 CDEs, covering job skills in everything from communications to mechanics. Some events allow students to compete as individuals, while others allow them to compete in teams.
Vanessa Sanchez, Sonia Alvarez and Jesenia Meza competed in the FARM event, where they took ninth-place honors in the state.
The food science team consisting of Joshuah Rodriguez, Jessica Vasquez, Alexis Jaramillo and Michael Jaramillo placed 19th out of 34 teams.
The first year member team, which included Jesus Policarpo, David Jimenez and Daniel Bedolla, placed 26th out of 68 teams.
The marketing team comprised of Sanchez, Adis Vizcaino and Risa Navarro presented its backpack program marketing plan and placed 11th out of 25 teams.
Miguel Navarrete, Crystal Cruz and Edson Rivera placed 18th out of 32 teams in the veterinary medicine CDE.
Ty Leyendekker, Mabton FFA vice president, served as the Mabton FFA chapter's voting delegate and attended various business sessions.
Vanessa Sanchez, Rivera, Cruz, Meza, AJ Sanchez, Michael Jaramillo, Alex Jaramillo, Joel Chavez, Joshuah Rodriguez and Leyendekker entered an application for the National Chapter Award and earned fifth-place honors out of 152 chapters. The National Chapter participants will be moving on to compete at the National FFA Convention this coming October in Louisville, Ky.
"State was a great experience," said Leyedekker. "We did really great with the teams we had. Our hope is that we do great at nationals as well. I, as well as the team, can't wait for nationals because that is going to be an even greater experience!"