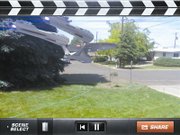 A missile landed in our back yard and blew up the family dog.
Boulders fell from the sky, pounding our street.
Those are just a few of the scenarios whipped up in seconds thanks to the new Action Movie FX app updated this month by Bad Robot Interactive.
The name Bad Robot might sound familiar as it's the property of director J.J. Abrams, who helmed the latest Star Trek adventure flick out this week.
Just in time for summer, Abrams and company have taken special effects created by Industrial Light & Magic for
Star Trek Into Darkness
and loaded them into a free app for all of Apple's mobile platforms.
All you do is point your iPhone, iPod or iPad, line up the crosshairs provided in the app and then shoot at least five seconds of video.
From there you can quickly apply one of several effects to your video, ranging from an avalanche to a rolling car crash.
The app is free and I gotta say the effects are pretty incredible. Some are kind of cheesy and more fakey than others - like having the U.S.S. Enterprise soar through your video.
Still, it's cool and a great idea for a tie-in with the movie.
I tried out all of the free special effects with help from our happy-go-lucky family dog who rolled around on the lawn while - only in the video, of course - fiery missiles and a rolling car crash headed her way.
I haven't been able to get into the latest batch of Star Trek movies with younger actors playing Kirk, Spock, et al., but the app effects are pretty much a hoot for action movie buffs who want to create their own summer mini-blockbuster.
There are very few misses in the Action Movie FX app.
In an ideal world, it would have been great if Bad Robot issued a special effects app that you could apply to videos you've already shot. Just imagine creating a new action video with Abrams' avalanche scene added to the footage you shot during that ski trip last winter.
Also, to unlock some of the special effects you have to watch a trailer for the new Star Trek movie, but it's a small price to pay.
When you open the app or go to its website you'll see a note encouraging you to submit your own special effects for consideration in a Bad Robot app. You'll have to disregard it, though, because the deadline was last month. Again, in a perfect world the special effects contest notice should have been deleted from the app.
But it's hard to quibble when there are so many goodies here for free. One of the other nice features is that it lets you decide where in your video to place the special effect. The sky doesn't have to fall at the beginning of your clip, you could heighten dramatic effect and delay it until the end.
I can only imagine the possibilities for families creating their own action movies...filming just to the left or right of the kids as they yell and run in the back yard, turning them into video super heroes dodging lasers or missiles.
To that end, Bad Robot does rate the app as being suitable for ages nine and up "due to infrequent or mild cartoon or fantasy violence."
There are other special effects you can purchase on the app for 99 cents, running the gamut from tornadoes to floods to alien creatures. According to Bad Robot's website, all proceeds from the app sales will support post 9/11 veterans.
There's plenty to keep you busy without the purchases, but options are always nice for the budding action film director.
The app allows you to save your new video on to your device and share it via social media.
Apple users rate Action Movie FX 4.5 out of 5 stars, so it seems Abrams has yet another summer hit on his hands.
You can find the app on iTunes or by visiting www.actionmoviefx.com.