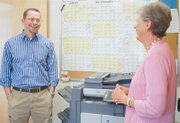 MABTON - Adam Copenhaver may have recently been named the permanent pastor at Mabton Grace Brethren Church, but his face and name may be familiar to many in the Lower Valley.
A 1997 graduate of Sunnyside High School, Copenhaver became the Mabton church's interim pastor last fall after having completed a six-month residency in Scotland for his doctoral studies. He was appointed to the post permanently about a month ago.
Copenhaver has been in the ministry for about 10 years and calls Sunnyside home along with wife Susie - a Sunnyside School District employee - and their two sons.
He grew up in the Brethren church, attending Sunnyside Grace Brethren as a youth.
It was during those early years - high school specifically - when Copenhaver felt the draw to enter full-time ministry.
He hasn't looked back since.
"I've loved it every step of the way," says Copenhaver, who in his spare time enjoys outdoor activities such as hiking and biking.
Mabton Grace Brethren has been in the midst of a transition period since last summer when long-time pastor Paul Guay retired due to health issues. He passed away last fall. "It was a sudden, traumatic loss for the church," Copenhaver says.
He says the focus is on building relationships within the church. To that end, the Mabton congregation is planning a family camp this coming weekend.
At the same time, Copenhaver says the church is continuing on with its community involvement such as hosting a monthly Gospel music jamboree. He noted the Spanish-language church that shares Grace Brethren's building will also continue on.
Copenhaver says he's especially enjoying opportunities to dig into the Word, both for writing and in sermon preparation.
"My passion is Christ-centered preaching and teaching," he smiled.
Currently, Copenhaver is leading the congregation in exploring the book of Colossians in a series of Sunday morning sermons.
Mabton Grace Brethren Church, located at 428 B St. across from the high school, meets for Sunday worship at 10 a.m. and can be reached at 894-4477.