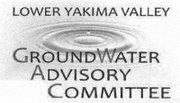 GRANGER - Much like its recently adopted logo, the Lower Yakima Valley Groundwater Advisory Committee is experiencing a ripple effect these days from Benton County's desire to leave the group.
Yesterday, Thursday, the group met in Granger to discuss the possibility of losing a partner and what it means to the advisory's future.
Tom Tebb with the Environmental Protection Agency confirmed that Benton County officials submitted a letter indicating an intention to withdraw from the advisory.
Tebb's agency has responded with an outreach effort in an attempt to keep Benton County in the fold. In addition, he noted Yakima County commissioners will also connect with their Benton County counterparts.
The bottom line, he said, is that the EPA can't force Benton County to "come to the table."
The county's departure would have impact because 40 percent of the region's groundwater management area is situated within Benton County.
Yesterday's discussion included worries that the groundwater management area would have to apply for formation all over again since Benton County was in the initial application. On that matter, Tebb said he would "have to consult with legal folks about that."
Tebb added that if Benton County does leave there is still hope the Lower Valley committee and Benton County could still exchange ideas and technical expertise.
There was also a question about continued funding for the advisory committee with the loss of a partner.
Tom Eaton of the EPA wondered aloud how the advisory can do its work "...if such a huge chunk of land is not participating."
Matt Bachmann of the U.S. Geological Survey agreed, noting that groundwater issues don't end at the county line.
It was noted that Benton County would pursue its own groundwater management area.
Mike Shuttleworth is a planning manager for Benton County, and told the committee last night that commissioners there want to go a separate route because of differences in farming practices between Benton and Yakima counties.
He noted, for example, that Benton County doesn't have the concentration of dairies as Yakima County does. Shuttleworth also pointed out Benton County residents aren't well represented on the Lower Valley committee.
Benton County's planned departure from the advisory impacted other discussions last night.
Mark Nielson of the Benton Conservation District chairs the committee's irrigated agriculture working group. He said the group hasn't been meeting because there is still lack of agreement by the advisory about the make-up of work groups.
The frustration, Nielson says, is having a "vagabond traveling troupe that's different at every (work group) meeting." Regardless of who attends the work group meetings, Nielson feels it's essential to have a core group making recommendations to the larger advisory committee.
Helen Reddout is a member of the environmental group CARE - which has sued five local dairies - and she said the existing format is going well for the other working groups. She suggested perhaps there needed to be a change in leadership of the irrigated agriculture group.
Nielson fired back, announcing his resignation on the spot.
When asked later if he was leaving the advisory committee or just the chair of his work group, Nielson said he was being flippant because with Benton County pulling out of the groundwater advisory committee he'll have to leave anyway.
After an extended discussion at last night's meeting about Benton County's departure, Tebb tried to rally the troops.
"This is tough, tough work...having to talk about these issues," Tebb said of differences between some of the committee members. "Let's roll up our sleeves and start working on this job."
More like this story