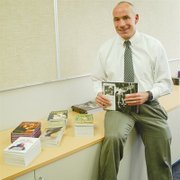 Autobiographies of famous people and stories of historical exploration and courage are among the books available for school patron scrutiny as the Sunnyside School District makes plans to upgrade its language arts standards.
The piles of story books, which have been selected as appropriate reading for grades 3-6, can be reviewed simply by calling Brian Hart, the district's executive director of curriculum, instruction and assessment.
The literacy books will be used in the district's elementary schools beginning in the fall, Hart said. More than just simple reading books about adventures, many of the books under consideration are historical in nature, refer to social change, or science and technology changes. The materials are all part of the change in focus regarding the district's language arts curriculum, Hart explained.
The books under consideration meet state core literacy standards, but Hart explained they also meet standards for core history, social studies, and science and technical subjects.
The district hasn't had a language arts curriculum change in about 10 years, Hart said.
Normally the district has strived to have new literacy materials adopted every seven years. But due to funding cutbacks the adoption process had been on hold until recently, he explained.
"We are undergoing this process this year as we begin moving toward alignments with new state core language arts standards," he explained. All school districts must have the new core standards in place by the 2014-15 school year, he said.
According to material on the state core standards website, the new English language arts standards create a new generation of K-12 standards in order to help ensure that all students are college and career ready in literacy no later than the end of high school.
In order to meet these standards the new literacy materials will be used in the classroom to help students understand literature, decode informational text, absorb foundational material, as well as improve writing, listening and speaking skills.
Hart explained the use of materials in this fashion is part of the CIA (collect, infer and apply material) approach to learning.
"We encourage school patrons to examine the materials," Hart said.
To make an appointment to review the materials, contact Hart at 836-8702. The materials will be available for public viewing at the Sunnyside School District Administrative Office, 1110 S. Sixth St., until 4 p.m. on May 30.