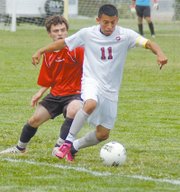 GRANDVIEW - Cheney ended the Grandview boys soccer season this past Saturday in a 2A State quarter-final match.
The Greyhounds had been on a four-match winning shutout run, but fell short by a 2-0 score this past Saturday as Daniel Bogart of the Blackhawks muscled the ball past the Grandview defenders twice.
Saturday's match was extremely physical, as it more resembled a football game.
"This is the third time Cheney has denied us the chance of a trip to the final four," said Grandview Coach Anne Holden.
The first goal came at the 32-minute mark when Bogart got the ball between the crossbars.
Holden said the 'Hounds responded with a flurry of action, but were unable to get an equalizing goal.
Cheney had a 1-0 lead at halftime, but Grandview, in spite of several players sustaining elbows to the gut, continued to hold off the Cheney attack for another 20 minutes.
"All we needed was a little bit of luck to go our way, a final touch, a ref's call...something," said Holden, stating the momentum could have easily changed.
Instead, in the 60th minute Bogart delivered a pass to Micah Weller, who booted it between the crossbars for a second and final Blackhawks' goal.
Cheney keeper Joe Scott was kept busy as the Greyhounds continued to fight back against the Blackhawk defenders. Grandview (16-4) is known for its attack, having had outscored its opponents 11-0 in the postseason prior to Saturday's match-up.
The Cheney goalie, Scott, at one point in the match tackled Grandview's Ricardo Serrato, drawing a whistle from the referees. Grandview, however, was unable to capitalize on the penalty kick as the ball bounced off the crossbars.
The Greyhounds made a total of eight shots on goal, all of which Scott was able to block.
Grandview keeper Elmer Campuzano didn't get much rest, either. He recorded nine saves.
"Our club is frustratingly close to achieving the goal of getting to the final four. We have had stellar back-to-back seasons, this year and last, and are aiming to build our program with the idea that making the final eight is our expectation," said Holden.
She said she is proud of her players and all they accomplished during the 2013 campaign.
"It has been a distinct privilege and it will be incredibly difficult to let go of all our seniors," Holden said.