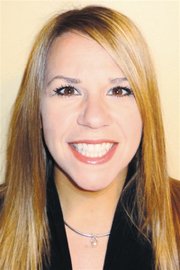 GRANDVIEW - There are quite a few changes taking place at the Port of Grandview.
The port's office has moved to a suite inside the Yakima County District Courthouse building, and the commissioners last Friday approved the purchase of another piece of property, as well as the employment of a new administrative assistant.
Fredda Smasne has served as administrative assistant to the commissioners for the past few years. She is stepping down in anticipation of retirement.
Tomorrow (Tuesday) Jessica Hansen will take over Smasne's responsibilities.
Hansen has experience as an account executive for ORCA Creative Group in Woodinville and operations manager for the Real Estate Association of Puget Sound.
The commissioners agreed to pay her $18 per hour for approximately 70 hours of work each month.
In anticipation of future business development the Port of Grandview commissioners last Friday approved the purchase of property located at 640 Forrest Rd.
The property runs adjacent to the Byam Business Park and Port of Grandview Commissioner Ron Grow said, "The purchase will straighten the boundary on the south side of the property."
The commissioners approved an agreement to purchase the property for $60,000, and the closing date anticipated for the purchase is June 10.
Commissioner Jim Sewell said the property is currently within the Yakima County boundary.
"It shouldn't be difficult to have it annexed into the city," he said, noting the Port of Grandview owns most of the property adjacent to the parcel being purchased.
The commissioners approved both the property purchase and the hiring of the new administrative assistant by 3-0 votes.