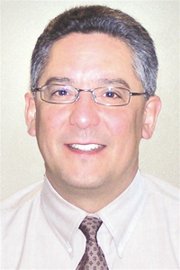 OLYMPIA - Washington state's move to legalize marijuana will have a Lower Valley connection, as Grandview native Rick Garza last week was named the new director of the Washington State Liquor Control Board.
Effective June 1, Garza replaces director Pat Kohler, who was recently appointed by Gov. Jay Inslee to lead the Washington State Department of Licensing.
Currently the agency's deputy director, Garza has been with the Washington State Liquor Control Board since 1997, when he started as a legislative liaison for the department. Prior to that, he served 13 years as a staff member in the Washington state legislature.
Garza says with a young family in tow he was ready to leave the legislature's stressful environment. He credits Wapato Mayor Jesse Farias for motivating him to seek employment with the liquor control board.
Back then, Farias sat on the Washington State Liquor Control Board. "At the time I didn't know if I would apply and Jesse told me to just try and go through the process."
Sixteen years later that "process" has Garza directing the agency.
"I probably wouldn't have thought of applying if Jesse hadn't called me," Garza says. "I love that agency, there are really good people here."
Garza's appointment comes at a time when the liquor control board is drafting rules to implement voter-approved I-502, which legalizes small amounts of marijuana for recreational use.
Along with Colorado - which also legalized marijuana last fall - Washington is one of two states tasked with governing the world's only comprehensive systems of growing, processing and retailing marijuana for recreational use.
The agency expects to begin accepting license vendor applications in September and Garza says by March 2014 there could be marijuana retail sales.
The big job awaiting Garza was highlighted by Inslee, who last week tweeted, "He's leading one of the highest-profile projects in nation. Will do great."
Just last week the agency released a draft of proposed rules implementing the marijuana rule. Garza says the idea is to give the public 30 days to comment, then re-tool the draft before submitting a final version to the Washington State Liquor Control Board for review.
"The response is pretty positive so far," he says of early reviews of the marijuana draft. "The staff worked three months on it...we didn't have a model to look at out there on how to implement the law."
He says staff did have help in the sense that those who drew up I-502 mimicked the state's liquor laws already on the books. That, in turn, at least gave Garza's agency some kind of template to work from.
Even so, he says there's a big challenge in making sure the federal government is satisfied with implementation of the new law.
"The feds could possibly respond to maybe a concern that the system we're putting together isn't properly controlled," Garza says. "So we're tightly regulating it from seed to sale."
That includes tracking software to follow the shipment and sales of marijuana in this state, as well as monitoring marijuana consumption by county.
Garza says the draft proposal does not track customers purchasing marijuana. He says consumers could technically purchase an ounce of marijuana from one retailer, then travel down the road and purchase more from another seller.
Still, he says an ounce should satisfy, noting marijuana has increased in potency. "It's a lot different today than what I remember growing up in high school and college."
While Washington's marijuana policy is front and center at the moment, Garza says the agency is working on other improvements, as well.
"One of the things we've been working on is providing (liquor) licenses quicker for people," he says. "That means employment." Garza adds that over the next year or two the Washington State Liquor Control Board will look at restructuring its liquor license policies to make them more responsive to the public.
Garza also hopes a technology upgrade is in the works for the state's liquor licensing. "There are other states with web-based applications and there's more of a customer desire out there for that."
As the next week or so sees him transition into the agency's director chair, Garza's family is also in a time of transition as his father, a former Catholic church parish council president, passed away last October. He lost his mother, a former Grandview city councilwoman, nine years ago.
"We're in the process right now of going back down there and selling the house," Garza says. "It's hard to think about not having a place to go home to."