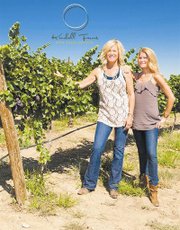 More than 2,000 small businesses entered the second annual Start Small Win Big Challenge sponsored by
Success
magazine, and when the top five finalists were announced, Kendall Farms of Sunnyside had made the cut.
Kendall Farms, run by Lisa Kendall and her daughter, Carra Waddle, is a wine and wine grape supplier. Kendall said she entered the competition because her business was growing so fast she felt like she was working herself to death. The challenge provided an action plan and guidelines to successful growth that benefitted both her, personally, and the company.
"It was very helpful," she said. "It made me stop and look at my business."
The magazine, aimed at small business owners and entrepreneurs, invited MSNBC's J.J. Ramberg to provide eight challenges to small businesses across the nation. The businesses were asked to put the suggestions into effect over a period of eight weeks from January to March this year then submit the results to
Success
magazine.
Kendall told the magazine that the most difficult part of the process was step six, communicating with and focusing her staff. She explained how growing from a one-woman operation to a staff of four was difficult for her.
Kendall wrote that she found it harder to delegate duties than do the jobs herself, and acknowledged it as one of her biggest weaknesses. She said the challenge forced her to put procedures and systems into place that will help her business grow.
Kendall's main goal during the challenge was to become a small business that runs smoothly. During the challenge, she said she brainstormed with her staff to work together and be successful.
Kendall said she wasn't sure why she was picked to be a finalist, but she's very happy being one of the five finalists and certainly hopes to win the challenge and be featured in the magazine.
"It's one of my favorite magazines," she said. "I know a lot of people have never heard of it, but it's very useful for small businesses."
Kendall is now waiting to find out if she is the top company, which will be featured in the August issue of the magazine. She said being a finalist means she will receive a number of small business tools as a prize.
In the meantime, people can show support by visiting the
Success
magazine Facebook page and liking Kendall Farms. The link is at http://blog.success.com/start-small-win-big-finalists.