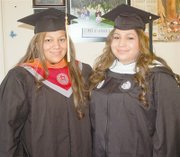 Sisters and masters of their chosen fields, Irma Mejia and Elizabeth Garcia took the long way round to complete their education. Despite the long route, they believe that their greatest learning opportunities came during their struggles to a gain their education.
Along their path to success, the Sunnyside women finished high school, got married, started their families, worked two and three jobs to earn money for school and took out student loans.
Mejia, a mother of two pre-schoolers, is a 2002 Sunnyside High School graduate and Garcia, a mother to a 10-year-old and a 17-month-old baby, is a 2004 SHS grad.
Earlier this month they donned caps and gowns to march with their fellow classmates at their chosen universities to complete the long journey towards earning Master's degrees in their chosen fields. Now the sisters want to serve as role models to other young people.
"We want to give back to our community and show others that regardless of where you start, getting an education is possible and it is the way to freedom," said Garcia.
Mejia is a graduate of Washington State University/Spokane with a Master's in nursing/family nurse practitioner. She is currently employed by Sunnyside Community Hospital. She'll take one more step on her path when she takes her nursing boards in Puyallup on Friday, May 24.
Mejia began her journey toward becoming a registered nurse following high school graduation. While still in high school, she took practical nursing classes which lead her to her ultimate goal.
"I took practical nursing classes at Sunnyside High School and went to work immediately following high school," she explained.
A graduate of Gonzaga University, Garcia earned her Master's in leadership and administration. She holds a Bachelor's degree in special education with a certification in math. Following a long term substitute job at Sunnyside High School, she was hired to work full time a short time later. Now she teaches high school geometry and algebra II classes. But her degree didn't come easy.
"When I got out of high school, I couldn't wait to get out of this town," Garcia admitted.
"We both lived in other areas," said Mejia, adding that she lived in Los Angeles for a time and Garcia lived in Wenatchee. But as sometimes happens, both returned home and now neither one can see themselves leaving again.
"We have too much to do here," Garcia said.
The second and third members of their family to earn both a Bachelor's degree and a Master's degree, the sisters credit their success to the work ethic set by their parents and the continuous moral support they gave each other, plus that of their large extended family.
Their sister, Lucia Tovar, a University of California-Los Angeles graduate, holds her Master's degree in counseling. She is employed as a high school guidance counselor at Mabton Junior-Senior High School.
The desire to get an education was instilled early in the sisters, but their parents never thought beyond the women getting a high school diploma. Even their mother earned her GED.
"Our father insisted we attend high school," said Garcia, noting there were 12 children in their family.
"He never pulled us out of school to work the seasonal work our family did to earn a living," she explained. "We all worked seasonal crops, but we never missed attending summer school," Garcia added.
But the women also credit the community for its part in the realization of their education goals. "When we were younger we didn't realize how many people were standing behind and along side of us, helping us to succeed," Garcia explained. People who helped make sure that their tuition was covered while they attended St. Joseph's Catholic School. People who helped their family make sure the 12 Ramos children had every academic tool necessary to achieve educational success.
"We now feel we need to give something back to the community that helped us when we needed a hand up," said Mejia.
Mejia does her part by volunteering to teach religious classes at St. Joseph's Catholic Church. Meanwhile, Garcia works with high school students to help them understand they all can be successful if they apply themselves.
"We all have natural talents, but we must work hard to use those talents," Garcia said.
Mejia and Garcia agree that the sole ticket out of poverty is to be educated. "That's the message we send out to everyone. We did it and so can anyone,'' Garcia concluded.