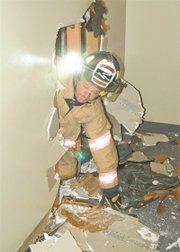 Opportunities to hone their skills on non-burning structures are rare for the Sunnyside Fire Department, but are welcome when a vacant structure becomes available.
Firemen don't get many chances to practice vertical venting or wall breeching without the complication of a fire, according to SFD Battalion Chief Bill Harris.
"Plus we don't often get to practice the venting process on a flat roof," he added.
Luckily, this past weekend the Sunnyside firefighters were able to punch holes into an old medical building all in the name of firefighting safety.
The Franklin Avenue structure located next to the existing fire station on South Eighth Street made it convenient for all of the paid firemen to cut holes in the roof through to the ceilings and to knock holes in exterior and interior walls as part of their firefighting exercises, Harris said.
Harris said all 14 of the department's staff took a turn at vertical ventilation, the process where the roof is opened up in order to release smoke, heat and gases created during a structure fire.
"We normally have practices on a pitched roof representation, but this building's flat roof gave us additional experience in dealing with flat roofs," Harris explained.
The firefighters, who donned full gear for the training, also worked on breeching interior and exterior walls. Harris explained the breeching process is useful when firefighters are inside a building and need to more from one area to another, or in order to create an exit strategy during the fire. The use of breeching is also useful when firemen are trying to gain access to a building or when someone is trapped inside.
The Franklin Avenue structure used for the training exercises underwent demolition yesterday (Tuesday). Following the debris clean-up, a new enlarged department firehouse will rise like a phoenix in its place.
In the meantime, Harris said he'd like to line up other buildings which could be used for training exercises.
"We normally don't learn about a demolition of a structure until after it's done," he said.
He encouraged residents who may be planning a building demolition to call the fire department at 837-3999.