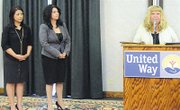 YAKIMA - Yesterday morning representatives of the many organizations and companies, as well as individuals that contribute to United Way Central Washington gathered for that organization's annual meeting and awards breakfast.
Among the individuals lauded on Tuesday for their contributions to United Way were Sandy Purcell and Debi Foster.
Purcell was the recipient of an award for her efforts to promote United Way in the Lower Yakima Valley, also known as the G2MOS (Grandview, Granger, Mabton, Outlook, Sunnyside) service area.
She serves at the United Way campaign chair for the area and networks with those living in the Lower Yakima Valley.
Foster was recognized for her efforts to gain additional support for United Way at the Grandview School District, which was also presented the Spirit of the Valley Award.
Foster received the Campaigner of the Year Award.
The Grandview School District received its award because the number of employees contributing to United Way increased from 9 percent the previous year to nearly 24 percent. "That's a 220 percent increase," said Purcell, who introduced the representatives of the Grandview School District, Foster and Superintendent Kevin Chase.
Lower Valley Crisis and Support Services in Sunnyside was also recognized at the awards breakfast yesterday. Purcell introduced the agency's executive director, Leticia Garcia, and Jovita Ayala, to those gathered for the breakfast.
Purcell said the organization was selected as one of the recipients of the Community Impact Award for its efforts to provide shelter and counseling services, as well as other crisis services to those impacted by domestic and sexual abuse.
"Leticia and her team are always looking for volunteers," Purcell plugged.
The recipient of the Ken Messer Community Service Award is also a native of the Lower Yakima Valley. Pete Bansmer is a graduate of Grandview High School, who has served residents of the Yakima Valley in several ways.
He is the past president and CEO of Yakima Federal Savings & Loan Association, having retired in 2008.
"But, you would never know he retired," said United Way Board of Directors Chair Patty Dion.
She said Bansmer has continued to serve the Yakima Valley community as a volunteer for many organizations. He is past chair for United Way Central Washington, serves on the Yakima Federal Savings & Loan board of directors, is a past board member for New Vision and has served as the treasurer of the United Way Foundation.
Also presented a Community Impact Award were the Kittitas County Red Cross and La Casa Hogar.
The Campaigner of the Year Award for Kittitas County was presented to Jerry Williams and for the Upper Yakima Valley the award went to Steve Myers.
The citizens of Kittitas County and Tree Top were presented Spirit of the Valley awards, the Loaned Executive of the Year Award was presented to Chad Silver and campaign chairs Gary Jones and Mike Broadhead also received special recognition.