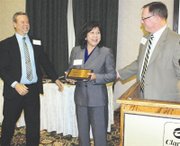 MABTON - Mabton School District staff is celebrating two of their own who recently were honored with state awards.
Superintendent Minerva Morales recently received a 2013 "Student Achievement Leadership Award" from the Washington Association of School Administrators.
The award recognizes innovative programs for the improvement of student achievement and is presented to administrators who have provided leadership for the implementation of an innovation that has resulted in measurable growth in student achievement.
According to the Mabton School District, Morales has spent her career serving students in the neediest districts in the state. She leads improvement efforts in the district, which has seen significant gains in reading and math at the elementary level.
Morales' work focuses on aligning and bringing resources to the district. Her efforts have resulted in partnerships and grants that benefit the children of Mabton.
Also being honored is Mabton High School senior Lorenzo Sanchez.
A native speaker of Spanish, Sanchez earned third-place honors in a state contest for writing in Spanish, "Escribo en Espanol 2013."
Each year the Center for Spanish Studies sponsors a school contest for K-12 students of Spanish language. The theme is announced in the fall, and teachers are welcome to sign up their students to submit drawings, pieces of writing or photography in early spring.
The pieces are judged by a committee and the award winners are honored at a ceremony at the state capital. Separate categories exist for native Spanish speakers and non-native speakers.
The award ceremony will be held in Olympia on Saturday, June 1, at the State Reception Room in the Legislative Building at noon.