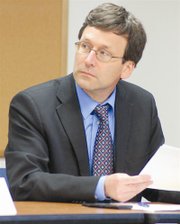 YAKIMA - Washington state's newly elected attorney general, Bob Ferguson, visited Yakima Wednesday afternoon to speak with the county's gang commission and find out what the county needs from the state to continue its efforts combating the problem of gangs.
The meeting started with an overview of the efforts of the county so far, including the county's gang court, which has been successful enough that the county wants to continue it, and the individual efforts of the cities of Yakima, Sunnyside and Toppenish.
Ferguson then gave a short speech about his background, explaining that while he grew up in a stable and safe place, he did spend a year in the Jesuit Volunteer Corps working in an inner city area with a gang problem literally across the street.
"As attorney general, my job is to help keep our communities safe," he said. "There is no greater public safety issue in the state than the issue of gangs."
Ferguson said that while he worked in King County he proposed a gang court, based on the model already being tried in Yakima.
He told the commission that he's been paying attention to the issues Yakima County has faced, and intends to keep up with the anti-gang efforts of his predecessor, Rob McKenna, who supported the county with its efforts against sex trafficking, an issue closely tied into gangs.
Many of the commission members expressed frustration with the state legislature, saying that efforts by the county to get help through legislation or funding have been completely ignored.
"My role is statewide," said Ferguson in response. "If it's your problem, it is my problem."
Sunnyside Mayor Jim Restucci brought up the city's crime-free rental program and how it has helped with the gang problem. Sunnyside Deputy Police Chief Phil Schenck supported Restucci, saying the ability to make the program mandatory was crucial to its success.
Rep. Norm Johnson said that Ferguson is in a position to bridge the divide between the legislators from King, Pierce and other west side counties and Eastern Washington.
"We need all the legs of that stool," said Johnson.
The meeting ended with some time for individual members of the commission to chat with Ferguson and each other. Ferguson also said that he planned to stay in town and meet with some local officials, including Schenck, on Thursday morning.