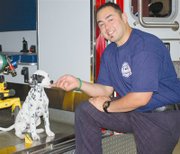 The first day on the job, A.J. Barrera used two bottles of oxygen. "I was pretty excited," admitted the newest member of the Sunnyside Fire Department.
His first call was the fire at the Sunnyside Goodwill Store. Having only started on May 1, he was on the fire crew which responded to the early morning blaze.
Now, after nearly a month on the job "...he (Barrera) has already proven to be an asset to our department," said Captain Mike Beckwith.
For Barrera, he is just happy to be working at a job where he can fulfill his goal of helping people.
For nearly 10 years the young man has been working to establish himself as a qualified fireman and paramedic. He began his career path by joining the Mabton Volunteer Fire Department in 2004. In 2006, he decided to take the emergency medical technician (EMT) training and used that training while still a member of the Mabton department.
He continued his training working with the Yakima County Fire District summer crews in 2007 and 2008.
A year later he decided to enroll at Columbia Basin Community College to take paramedic training. Since graduation in 2010, he has worked at Prosser Memorial Hospital, while working full time as paraprofessional in the Mabton School District. "I worked with the special education classes," Barrera explained.
Barrera's career choice was greatly influenced by his later grandmother, Genève Hernandez, who for years worked as a Grandview School District nurse. His mother, Norma Barrera of Mabton, is a certified nursing assistant, is currently working on her licensed practical nursing certification, Barrera added. Even his fiancée, Supharak Hiampane, is interested in medicine. She is currently working on her medical degree, while attending school in Seattle, he added.