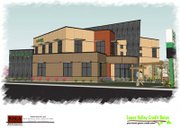 After establishing two new branch offices in the past eight years, the Lower Valley Credit Union is eyeing a makeover of its headquarters here in Sunnyside.
Plans are to construct a new, 10,000 square-foot corporate office and main branch in Sunnyside at 900 Yakima Valley Highway, the corner of Ninth Street and Yakima Valley Highway.
That's according to an announcement earlier this week by Suzy Fonseca, the credit union's CEO.
"This process has been years in the making," says Fonseca. "Members have been very patient with us while we successfully established our Prosser branch in 2005 and then our Grandview branch in 2010, and now it's time for Sunnyside."
The two-story corporate office and main branch project was first revealed in March to LVCU's more than 120 member-owners.
A groundbreaking for the new site is scheduled for this August. The two-story building will open for service next March.
"As we get closer to the groundbreaking you will begin to see prints of our building on display at each of our branch locations," says Fonseca.
She says members are not only encouraged to check out the plans, but to comment and add their perspectives. "At LVCU, it is our mission to allow our members input to form our decision making, while holding true to our credit union principles of 'people helping people'."
Other highlights of the new corporate office/main branch include:
- An internet hub for member-owners to have PC and printer access.
- A community conference room available to serve as training room, board room, financial seminars site and a community meeting room.
- An area called "Kid Zone" for children to play and learn while their parents visit the branch.
- A dual-language ATM.
Fonseca says the new building marks a time of growth for LVCU, founded in 1952, while including themes that salute the area's agricultural roots.
"The building's design is reflective of the communities LVCU serves and we are confident that the community will be pleased," she said.
Fonseca notes that LVCU will look to lease or sell its current 3,400 square-foot office and a total of six city nearby city lots.
She says LVCU closed on purchase of the new lot, formerly the site of the Ron Sidwell Farmer's Insurance agency, a year ago in anticipation of new construction.
The new property sits across Yakima Valley Highway from Snipes Mt. Brewery, and measures nearly an acre. That allows LVCU room for future expansion.
All of which means "it's time for Sunnyside" now and into the future for LVCU.
"With the architect's help we're doing some tear-away walls so we'll be able to expand there when we need more room," says Fonseca.