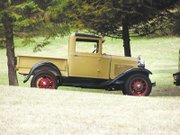 Sunnyside's Best Western GrapeVine Inn is the destination next month for a group of car enthusiasts from Oregon.
That's according to Eric Placzek, director of marketing and sales for the hotel, who said the Beaver Model A Club will stop here on June 21 and 22.
Placzek notes the group will be arriving here from Grand Coulee Dam on the last leg of the nine-day Selkirk Loop. He says the group traveled as far north as British Columbia and now is heading home to the Portland, Ore. area.
Officially the Beaver Chapter of the Model A Ford Club of America, the busy group holds activities throughout the year ranging from driving tours to swap meets, where Model A parts are bought and sold.
More information about the club is available at www.beaverchapter.com.