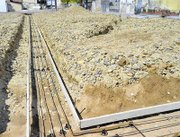 A fire decimated a Sunnyside landmark just more than two years ago.
The Safari Restaurant was destroyed, but the owners haven't been deterred. Rigoberto and Nina Carrasco plan to re-build the restaurant.
Sunnyside Planning Division Administrative Assistant Jamey Ayling said the footings for the new building were laid for a foundation, electrical and sewer connections.
He said the city should be issuing construction permits soon.
"We are waiting on the plans for the roof," he said.
Mr. Carrasco said construction started, but was halted to make sure the work would meet the city's permit requirements.
Construction, he said, is expected to take between five and six months once it is underway.
Carrasco said the Safari will open soon after the construction is complete and a grand opening will be held once that happens.
The plans reflect a 5,748 square-foot building that is estimated to cost nearly $630,000, according to Ayling.