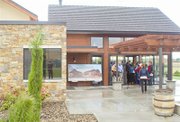 PROSSER - Dignitaries from far and wide packed the Vineyard Pavilion last Friday to toast construction progress on the Walter Clore Wine and Culinary Center in Prosser.
The ceremony was supposed to be held outside on the pavilion grounds with the new center rising nearby, but rain changed all that and the event was held indoors.
Dubbed a "Toast to Construction," the event marked progress on the new 15,000 square-foot center scheduled to open this November.
Prosser Mayor Paul Warden praised the teamwork among Prosser city employees in facilitating construction of the center.
In other comments Friday, Benton County and Port of Benton officials were also lauded for their help in getting the project off the ground.
Steve Warner, president of the Washington State Wine Commission, reminded those gathered that while the state's wine industry will be featured, the Clore Center is at its heart about all the produce grown in the Yakima Valley. He said the center will show the public a "big picture" of the state - and Valley's - farm produce.
Also in attendance was Sheila Collins, representing Gov. Jay Inslee's office. Collins has been in on the Clore Center project for several years, as she worked on behalf of former Gov. Christine Gregoire when the project was in its earliest planning stages.
Collins expressed delight at the progress underway and said Inslee is excited to check out the center when it's completed.
Speaking of Gregoire, Sunnyside-area farmer Dan Newhouse was with her just last year during a visit to the Vineyard Pavilion while he was serving as the state's Director of Agriculture.
Newhouse, praised by new ag director Bud Hover during his comments on Friday, said it is gratifying to see the Clore project nearing completion after 10 years of planning and fundraising.
Besides visiting the site last year with Gregoire, Newhouse on Friday also recalled discussion in the legislature on the project during his days as a 15th District representative.
Newhouse praised educational opportunities the center will provide - it's scheduled to offer training in both ag and food preparation with a fully functional kitchen.
Newhouse says perhaps the Clore Center's biggest contribution will be to "bridge the gap between rural and urban" segments of the state.
In turn, the hope is that with greater understanding will come a greater appreciation for the work and process needed to get food from farm to the local grocery store shelves.
Grandview Mayor Norm Childress, an employee of Benton County, was also at Friday's event and said the Prosser center will be a win for neighboring cities as well in terms of drawing more interest to the Lower Valley's ag industry.
Total cost to construct the Clore Center will come in at right around $8 million, which includes substantial private funding.