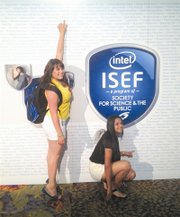 PHOENIX, ARIZ. - Sunnyside High School senior Sarah Berumen earlier this month traveled to Phoenix, Ariz., where she competed in the Intel International Science and Engineering Fair.
She earned fifth-place honors in microbiology at the week-long event.
"It was a busy week," said Berumen, stating she spent the week meeting different people, giving presentations and taking in seminars.
She also had the opportunity to visit a few places of historical interest like Sedona's red rock formations and the Montezuma Castle National Monument.
Berumen made new friends with a few students from Germany and met Nobel Laureates from all over the country.
"Coincidentally, I met and lunched with Dr. Douglas Osheroff of Aberdeen...he discovered super-fluidity in helium three," said Berumen.
She was among 15 students selected for the luncheon. To be considered, the students participating in the International Science and Engineering Fair submitted a question and the Nobel Laureates selected from among them.
"My question was, 'If you could obtain an answer to any question, what question would you answer?'," Berumen shared.
She said the question won her a spot at the table, but she also had to publicly share the question with an assembly of 5,000 people, including the students not participating in the luncheon.
Berumen said she enjoyed her time in Phoenix because she was among others who share her passion for science.
"No one looks at you weird...you can talk about all these scientific interests and they are all enthusiastic about it," she said.
Berumen said she also realized there is a close correlation between science and art while she was at the event.
The revelation came when Osheroff shared that he teaches photography at MIT. It made her think about others who have a scientific mind, yet also share a love for fine arts.
During the day of judging, Berumen said she presented her project 12 or 13 times. The following day, the fair was opened to the public. "I gave at least 10 more presentations," she said.
Berumen said she enjoyed herself, feeling as if the competition was really a celebration of all the students had accomplished.
In addition to her fifth-place standing in the microbiology classification, Berumen also earned a Wolfmann Mathematic Award, which she said will be useful when she is attending college.
"This was a positive experience," she said.