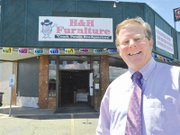 H & H Furniture will be closing its doors in Sunnyside at the end of this week.
That doesn't mean the business is disappearing from the Lower Yakima Valley for good, however.
Owner Mark Peterson said he has located a building in Grandview that may suit the needs of his business.
If the purchase of the location goes through, H & H Furniture may open there at the end of the summer.
Peterson said he didn't want to leave Sunnyside, but his lease ran out. He said the current property owner didn't want to renew that agreement. He also looked at other spaces, but nothing suited the needs of the store.
"We were caught off-guard," he said, noting he has operated his business in Sunnyside for 23 years.
The business was located where Mid Valley Mall now sits when he first opened.
When the mall was constructed, Peterson relocated to a retail space at the corner of South Sixth Street and East Edison Avenue.
A couple of years ago, H & H Furniture relocated to its current space in the 500 block of East Yakima Valley Highway. Peterson said he needed a larger space for the furniture rental business.
"Currently we are in negotiations for the purchase of space in Grandview," he said.
Peterson said the upside to the situation is that he would own the building in Grandview and no longer be beholden to a landlord. He owns his other business locations and it makes sense, he said, to purchase a building for his Lower Yakima Valley location, as well.
Also, there are three other rent-to-own businesses located in Sunnyside.
If Peterson's business opens in Grandview, his store would be the only one of its kind there.
"Grandview might be a good market," he said.
"The goal is to open in August or September," said Peterson, noting he feels it is "...bittersweet to leave Sunnyside because we have two generations of customers."
As to why his business has been so successful, Peterson said he believes it is the personal attention to the needs of his customers that has served him well.
He said, "You have to know your customer and provide a service to do well."
Explaining, Peterson said the products sold in Toppenish and Sunnyside are different because the stores cater to the customer base. Toppenish, for example, has native American-themed furniture.
His stores are also popular because the products are rented on a monthly basis instead of weekly.
"We make less money on the item because of our structure, but we make it up on the other end because our customers return to us," said Peterson.
He said he is sad to see the doors in Sunnyside close. All products in the store are closing sale priced.