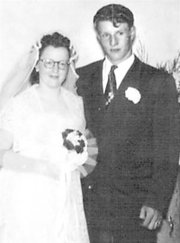 An open house to mark the 60th wedding anniversary of Keith and Carylon Ward of Grandview will be held Saturday, June 8, at 3 p.m., at 1350 Appleway, Grandview.
The occasion will be hosted by the couple's children - Cathi Barr of Kennewick, Vic Ward of Selah and Rick Ward of Hood River, Ore.
Carylon Lambdin and Keith Ward were married June 4, 1953 in Mabton. The couple has lived in the Lower Valley all their lives. In addition to their three children, they have seven grandchildren and 14 great-grandchildren.