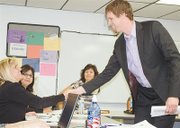 MABTON - Sunnyside High School math teacher Caleb Oten is the new principal for Mabton's junior/senior high school.
That's the result of action last night by the Mabton School Board.
Superintendent Minerva Morales introduced Oten during Tuesday night's board meeting, noting the 2002 Prosser High School graduate had been through a "rigorous interview process."
Morales praised Oten's role in helping to align math standards at SHS, noting he should be a boost to efforts at improving math scores for Mabton High School students.
She also noted improvements at Sunnyside High School resulting in higher graduation rates.
"We believe he will be a strong leader," Morales said.
Later, after last night's meeting, Oten said the school improvement work at SHS in partnership with Gonzaga University was helpful in his application to the principal post.
Oten, who obtained his administrative credentials from Gonzaga, taught math at Sunnyside High School for six years and also completed his principal internship there.
Mabton is Oten's first full-time administrative post.
He becomes the junior/senior high school's third principal in three years. He succeeds Jose Elizondo, who is leaving after two years on the job, and Jay Tyus, who stepped down at the end of the 2010-11 school year.
Oten still calls Prosser home and said he was attracted to Mabton Junior/Senior High School because of the district's small size. "It seems like a closer knit community."